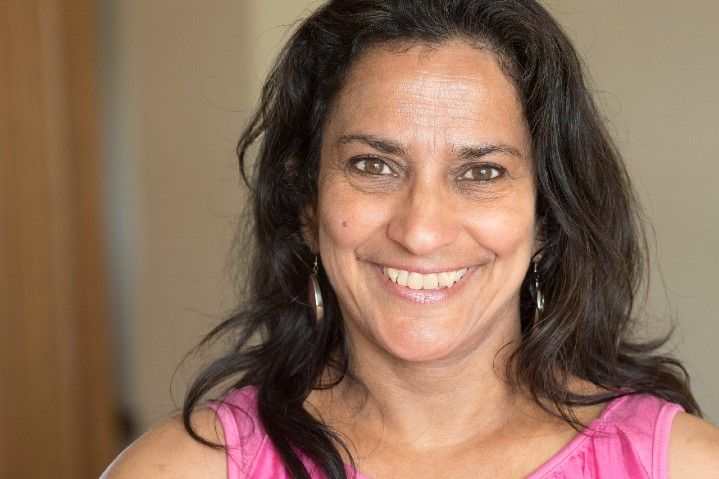 "I have been a seeker and I still am.

But I stopped asking the books and the stars.

I started listening to the teaching of my soul.

Rumi
Neela Masani, Founder of Yoga Shanta, Accredited Psychotherapist MBACP, Registered Yoga therapist C-IAYT, Registered Yoga teacher YAP
Hello I'm Neela, a mind-body therapist, educator, and founder of Yoga Shanta.
I am passionate about helping people find their own way to health and peace of mind. Whatever our past experiences may have been, I believe we all have the strength and ability to transform our lives and make informed choices for ourselves.
Our stories are not solely narrated in words – in what we tell ourselves and others – but they are also written in our bodies, our thoughts and our actions. In my work I draw upon a number of areas of knowledge including theories of psychotherapy, wisdom from the Yoga tradition, modern neuroscientific knowledge, creative practices of writing and other art forms. I offer my therapeutic services with integrity and humility. I adopt a multi-cultural approach rooted in the principles of inclusion and diversity.
Services offered
Supervision for counsellors, Yoga therapists and other mental health professionals
Group supervision/reflective practice
Mentoring for Yoga teachers
Professional training courses for counsellors and Yoga professionals
I am always keen to hear from organisations seeking consultancy or training.
I am always keen to hear from orgainisations seeking consultancy or training. I am registered with the following organisations:
Accredited Psychotherapist and clincial supervisor (BACP)
Registered Yoga Therapist (C-IAYT)
Senior Yoga Teacher and Trainer Pro (YAP)
My Background
As a mind-body therapist specializing in anxiety, trauma, attachment and self actualisation, I have over 20 years experience working in private practice, the third sector and psychiatric and forensic settings. My theoretical approach is integrative, relational and encased in an existential framework. I am registered with the International Alliance of Yoga Therapists, with Yoga Alliance Professionals and with the British Association of Counsellors and Psychotherapists.