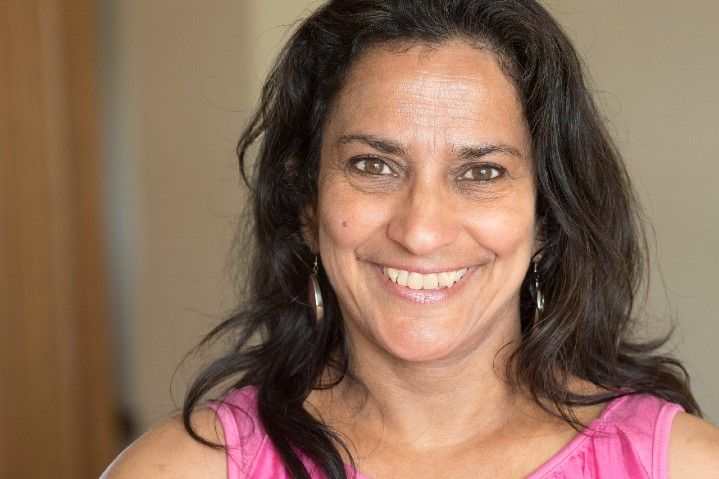 "Peace is the inner nature of humankind. If you find it within yourself, you will then find it everywhere."
Ramana Maharshi
Neela Masani, Founder of Yoga Shanta, Accredited Psychotherapist MBACP, Registered Yoga therapist C-IAYT, Registered Yoga teacher YAP
Hello I'm Neela, therapist, educator and founder of Yoga Shanta.
I have always been fascinated by human behaviour and am passionate about helping people find their own way to health and peace of mind. To this end I am a qualified psychotherapist, Yoga teacher and Yoga therapist for mental health. Despite our past experiences, I believe that we all have the strength and ability to transform our lives and make informed choices for ourselves. I believe that our stories are not solely narrated in words – in what we tell ourselves and others – but they are also written in our bodies, our thoughts and our actions. I offer my therapeutic services with integrity and humility. I adopt a multi-cultural approach rooted in the principles of inclusion and diversity.
My background
Specializing in anxiety, trauma and attachment, I have over 20 years experience working in private practice. Alongside this some of the organizations I currently or have previously worked include:
Priory Hospital, Ticehurst – trauma therapist on an inpatient unit for Complex PTSD, acute ward and adolescent unit.
The Dene Hospital, Hassocks – trauma group therapist.
The Rock Clinic, Brighton – senior therapist and assessor.
I have taught general Yoga classes for ten years and specialized in Yoga for mental health for eight years.
I offer online psychotherapy and Yoga therapy to adults and provide group/individual supervision for counsellors and Yoga therapists. My theoretical approach is integrative, relational and encased in an existential framework.
Services offered
Counselling and Psychotherapy
Yoga therapy for mental health
Therapeutic Yoga classes and workshops
Clinical one to one supervision for qualified and trainee counsellors, Yoga therapists and other mental health professionals
Group supervision/reflective practice
Training workshops for counsellors in mind/body practices, neuroscience and mindfulness
Training workshops for Yoga teachers/therapists in therapeutic safety and relational dynamics
I am always keen to hear from organisations seeking consultancy or training in the above.
My regular weekly Yoga classes are currently online.  I also offer in person Yoga day retreats in the beautiful setting of  http://beechwoodhall.org Please see Yoga classes and workshops for further details.
I am registered with the International Alliance of Yoga Therapists, with Yoga Alliance Professionals and with the British Association of Counsellors and Psychotherapists.