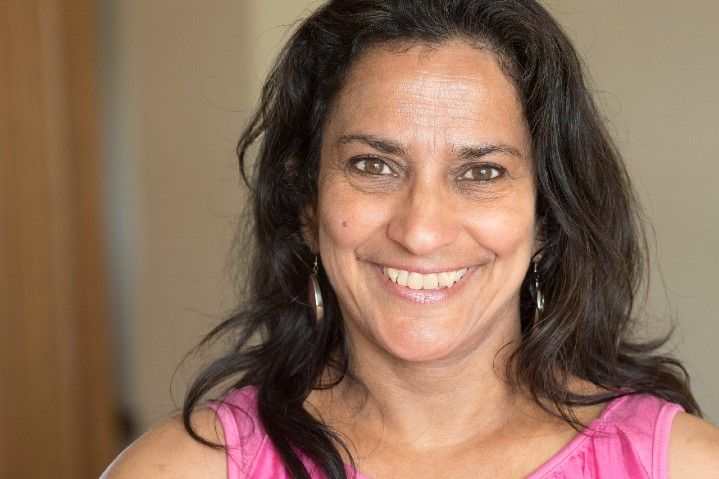 "Peace is the inner nature of humankind. If you find it within yourself, you will then find it everywhere."
Ramana Maharshi
Neela Masani, Founder of Yoga Shanta, Accredited Psychotherapist MBACP, Registered Yoga therapist C-IAYT, Registered Yoga teacher YAP
Hello I'm Neela, therapist, educator and founder of Yoga Shanta.
I believe in the power of human resilience and our innate capacity to transform our lives and make informed choices for ourselves. I believe that our life stories are not solely narrated in words – in what we tell ourselves and others – but they are also written in our bodies, our thought patterns, our actions and addictions. offer my therapeutic services with integrity and humility. I adopt a multi-cultural approach that recognises the impact of socio-economic and environmental factors on our mental health. I am invested in the principles of inclusion and diversity.
With a specialisation in the field of trauma, at the Priory Hospital, Ticehurst I was a therapist on a Complex PTSD inpatient unit as well as working on the general adult and adolescent units. At the Dene Hospital, I ran therapeutic groups for patients with severe trauma. I have provided therapy, group work and supervision at several women's domestic violence and abuse agencies both in the UK and overseas.
Currently I offer a blend of online psychotherapy and Yoga therapy to adults and provide group/individual supervision for counsellors and Yoga therapists. My theoretical approach is integrative, trauma informed, highly relational and encased in an existential framework.
I provide a range of embodied, holistic services for students, clients and practitioners:
Counselling and Psychotherapy
Yoga therapy
Therapeutic Yoga classes
Clinical supervision for qualified and trainee counsellors, Yoga therapists and other mental health professionals
Group supervision/reflective practice
Training workshops for counsellors in mind/body practices, neuroscience and mindfulness
Training workshops for Yoga teachers/therapists in therapeutic safety and relational dynamics
My weekly Yoga classes, for those seeking peace of body and mind are currently online.  I am always keen to hear from organisations seeking consultancy or training in the above.
I am registered with the International Alliance of Yoga Therapists, with Yoga Alliance Professionals and with the British Association of Counsellors and Psychotherapists.